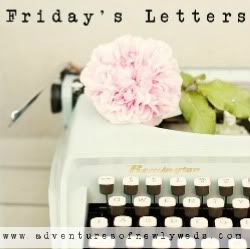 Dear students please stop driving me crazy. I guess I should have realized that handing out bobble head pens to each and every one of my students after a field trip was a recipe for disaster. We have two more weeks of French and then will be switching over to the English program. Can you say excited much?!

Dear husband thank you for being so good to me during my pregnancy. You have never once complained and are always making sure that I am well looked after. I love you so much and could not have asked for a better husband. You're the absolute best.

Dear Baby J we cannot wait to see you during our first ultrasound which is 1 week and 5 days from now. I am very excited to find out whether or not you are a girl or a boy. Originally, I was thinking you were a girl then my thoughts turned to boy and now I have no clue. You have certainly kept me guessing. It will be so exciting to tell our family and friends this exciting news.

Dear home renovations thank you for turning out so beautifully. Now that the wall has been torn down in our kitchen/dining room, I love our house that much more. We have so much more room and it feels much more spacious. I had the girls over last weekend and we spent the majority of the time sitting at the kitchen island!


Dear second bathroom (addition) reno you will have to wait!


Dear blog friends thank you for following me. Any suggestions on how I can make my blog better? I have ordered a new template which should arrive within the next two days. Excited! I am also considering changing my blog name considering it is very generic. I am having such a difficult time deciding on one that is catchy, fun and different. Any suggestions?



Stay tuned for some major changes to this blog!